A fake start to our Sri Lankan holiday 
It hadn't started particularly well. The six-week long holiday to Sri Lanka commenced with the Qatar QR004 cancelled flight. A 9-hour delay on the less than comfortable seats outside gate 6 of Heathrow's Terminal 4 ended with the official announcement that the plane was definitely broken, could not fly and neither could we. Not that day a least. We were promised a departure at 10am the next day.
An hour later, we were transported to the Holiday Inn Heathrow hotel and told to wake up at 6am, for the promised 10am departure. Hundreds of tired people dragged themselves to the buffet for dinner, children swarmed and cried of exhaustion, there was a palpable desperation on each tired face and we were not in particularly happy moods either. By end of breakfast the next day, we heard on the grapevine that the airline told us to wait for further 'updates' at 2pm. By that point we knew we weren't going to make it to Sri Lanka unless we took matters in our own hands.
An Uber ride later, we were in the queue at Qatar's ticketing desk in Terminal 4. God only knows how we were given tickets on the 14.15 flights as the guy at the desk suggested an Etihad flight that left at 8pm and had a 7 hrs change over in Abu Dhabi. Somehow luck – incarnated by supervisor Ms. Gulyan Hussain – intervened and two hours later we were back at gate 6 waiting to board.
Arriving in Colombo the next day, we were tired and at our wits' end. So much so that when the taxi driver somehow managed to waste an hour on the streets of Colombo asking at least 7 people for the address of our hotel, we pretty much decided we were going to have a terrible holiday. Which almost came true when, a few hours later, we attempted to walk to the Dutch Hospital from our hotel and reacted (like two rookie travellers) to some guy on the street's suggestion that we should jump a tuk-tuk to a nearby temple where a regalia of elephants and clergy was going to perform a very special ceremony that was starting 'now'. Should this have been my first time in Asia, I would have understood but this is the oldest trick in the world. Five minutes later and 5000 rupees lighter (only because I thought I handed him 500 and managed to give him 5000 instead) we were back to square one. We were clearly not being welcomed by Colombo. What if the rest of our holiday was going to be the same?
Managed to make it to the Dutch Hospital and were greeted by a noticeable lack of splendour. Just a few overpriced shops and restaurants. Still we wanted to make the most of Colombo.
'Let's watch the sunset at the Kingsbury hotel, like every other tourist in town' I suggested.
A lacklustre terrace and overpriced drinks accompanied our first sunset in Sri Lanka.
'Tomorrow it's going to be better,' we promised each other as we walked down Galle Face Green after dark and noticed the many families, street food stands and kites flying past, wishing we had gone there instead.
Train to Galle
The next day was all about logistics. We were going to get our 30 days visa extended with an additional 9 days. We found out before getting to SL that we could only get an ETA for 30 days; any longer period of time had to be extended in Colombo only. Our 30 days visa costed us around $15 each, while the extension came down to around £50. Expenses were piling up and it was only the beginning.
'We need to get out of this town. Colombo has got a bad omen,' we agreed,
Initially we decided to rent a car and drive. We were not, under any circumstances, going to be driven around by a driver, which seems to be the standard practice in Sri Lanka. What we didn't realise was that a normal driving license wasn't enough, we needed some kind of special permit to be allowed to drive. We dismissed the self-driving option with immense regret and faced our only other alternative: trains and buses.
Soon we were waiting on platform 6 at Maradana station waiting to board the 16.40 train to Matara, to get off at Galle. We were the only tourists on the entire train station. Trains came and went, platforms swelled and cleared just like the waves at sea and we were wondering how we'll know when our train arrived. I popped my head into the station master's office and enquired.
'You're on the wrong platform,' he said. 'You should be on platform 5.'
'Are you sure?' I enquired wondering who to believe: the guy from the ticket office who sworn by platform 6 or the station master. I opted for the station master and lucky choice I made. It only took a few minutes for our train to pull in. The train hadn't even stopped and the people on the platform (otherwise composed city workers) swarmed in through open windows and doors, as if sucked in by a gigantic hoover. It was something to be filmed. Miraculously, boarding the train with heavy backpacks like loaded camels (when it finally stopped), we managed to get two seats opposite each other.
'This isn't too bad,' we grinned at each other noticing that there were hardly any people standing and that the old fans hanging from the ceiling dispersed a pleasurable breeze.
The next stop on (Colombo Fort), we watched in bewilderment as a sea of people poured in to the point that some were hanging from the railings and dangling dangerously outside of the train. A group of children accompanied by their mothers, balloons and flying kites (ironically painted in the English flag) surrounded us.  I felt bad about sitting down, but I was stuck under the table with the backpacks and any attempt at offering my seat would have resulted in the destruction of the human jigsaw. I offered one of the kids the chance to sit on my lap instead. I was soon to find out that they had been at the zoo and they proceeded to take out their mobiles phones and showing me photos of the zebras, snakes and monkeys. The balloon popped half way through the journey. I learnt all their names and gave them my email. The journey swelled my heart. So many smiles, under circumstances of extreme heat and no personal space. If that had been the London commute, I found myself thinking, nobody would smile.
When finally in Galle, warmed by the train journey experience, we decided upon a local bus to Koggala beach, our next accommodation. Bus 350 delivered us with extreme speed (and when I say 'extreme', I mean it) at the doorstep of the Beach Cabanas resort in exchange for 40 rupees each (less than 25p).The bus even had a TV screen showing a Sri Lankan adaptation of reggae music and strobing lights. I wouldn't change the 'disco bus' for an air-conditioned car with a driver in a million years.
The whole travel from Colombo to Kogalla costed us around £2.50. A taxi would have been in the region of £50-£70 and no interaction with the locals. I can't begin to describe how much I enjoyed taking the public transport in Sri Lanka. People watched us with unconcealed curiosity and interest and with their limited English, they were always happy to help two lost travellers to get off at the right stop.

Turtle spotting in Galle Fort
We arrived in Koggala beach long after the sun had set. The main street was in complete darkness except for a Sea Food restaurant by the side of the road, where a few couples were finishing off their dinners.
I hope we're in the right place, I murmured.
Turns out – information received courtesy to the Sea Food restaurant staff – we were only a few metres from The Beach Cabanas, our lodgings for the next three days. We arrived in front of a large wooden door with a bell attached to it. A few seconds after I vigorously rang the bell, a wide-smiled man welcomed us in. Enter Paradise!
There are no words to describe how beautiful, stylish and exclusive The Beach Cabanas resort was. In awe, we were lead past the swimming pool to our very own sea-facing 'cabana' (we thereafter referred to it as 'villa' – guess why?).
'Wow, this is better than the Sea Star Resort in Phu Quoc, last year,' I commented.
'I didn't think anything can top that sea-view room, but I think this just kicked its ass,' he said.
'If only they had a 'Rory's' beach bar near by,' I wished, noticing there was a noticeable lack of human presence apart from the hotel staff (which I found strange as everything seemed to be fully booked over Christmas and New Year).
The Sri Lankan fish curry breakfast we received the next day literally blew our minds. Coconut rice with fried egg inside a bowl made of a crispy Sri Lankan pancake (called 'hoppers' as we found out later) and fish curry delighted our taste buds and finally made us feel welcome on this beautiful island.
We soon discovered we were not alone in the complex, and yet the only people we interacted with were the restaurant staff who gladly entertained us in exchange for practicing their English. What was going on?
We found out that the entire stretch of the beach belonged to the same owner who had built various types of resorts (our, being obviously the cabanas style) and, despite its pristine beauty, was eerily quiet. The few people we managed to spot acted like lizards who didn't want to be noticed or disturbed and went to bed early. We, of course, respected that, but we were hungry for a bit more than that. The next day we made a trip into the beautiful town of Galle, only 20 minutes on a bus from Kogalla.
Gale Fort is a picture perfect old Dutch colonial town. 'It reminds me of Hoi An,' I commented as we walked down its narrow streets lined with stunningly beautiful colonial buildings with architectural styles ranging from early colonial to to art deco, little shops, cafes and inviting restaurants.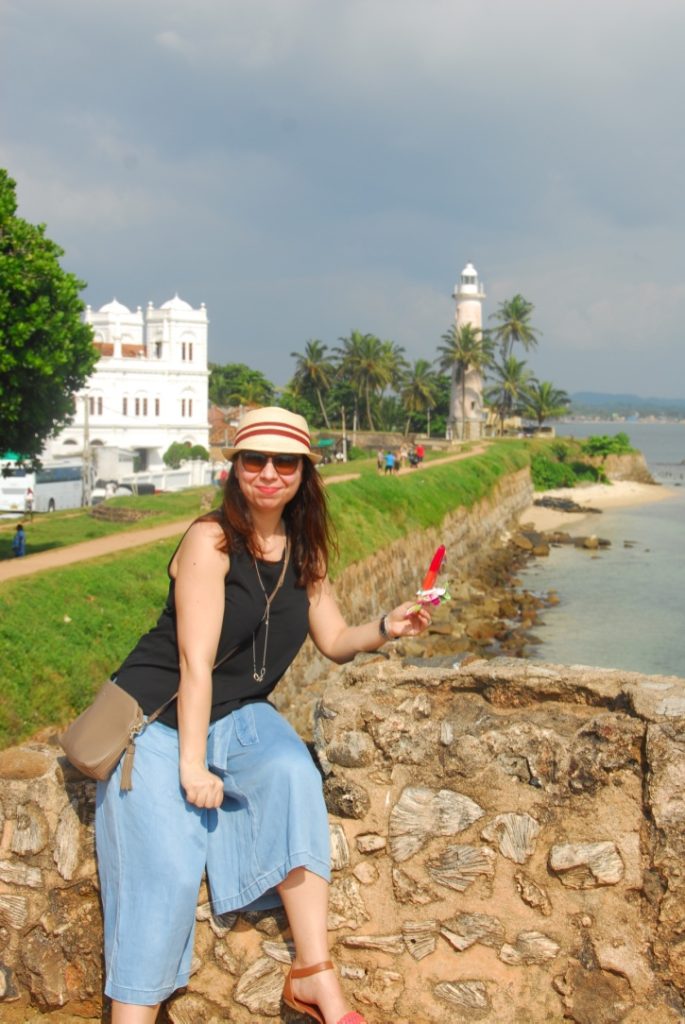 'Just a lot less tourists,' he said.
'I find that shocking,' I said. 'Having visited a few different Asian countries, this is the least touristy I have ever seen.'
'Not for long,' he assured me.
'Probably not,' I nodded in agreement.
A short stroll on the edge of the fort took us to the lighthouse (which is still in use, as it has been demonstrated in the evening) and the stunning white mosque. Walking back on Rampart Street we made a pit stop for lunch at the Rampart hotel, famous for its jumbo prawns and sea views.
After lunch, we decided to walk the entire length of the fort walls and stop somewhere to watch the sunset.
'Don't you find it funny,' I said, 'that we go to all these exotic places only to admire our own architecture?'
'I suppose,' he answered,' but that's because we don't exactly have colonial architecture back home.'
'I guess you're right. But it is slightly narcissistic,' I decided.
We settled for a spot on the walls of the old Fort and watched the sun making its way down imperceptibly to the horizon line. Behind us, families, lovers, a young married couple with a photo crew taking long lasting memories that will be framed and hanged in the living room for generations to come, children flying kites, and behind it all, the secular outline of the city.
'See that head coming out of the water, between those two rocks?' Alistair said suddenly pointing towards the sea.
'Yeah?'
'I think it's a sea turtle.'
The back of its shell cutting through the surface of the water confirmed he was right.
We sat there for an hour, until the sun dissolved behind the horizon, spotting turtles and feeling confident that this was indeed the beginning of a wonderful holiday.
Whale watching in Mirissa 
The next day we woke up at 5am to be driven to the port of Mirissa, a 20 minutes tuk-tuk ride away to see blue whales (Sri Lanka being one of the few places in the world where such magnificent creature can be seen). We stepped aboard a weirdly-looking two-tiered boat, more tall than it was wide and tilting dangerously to one side, and managed to grab the last two available seats on the top floor.
I was excited but as soon as we left the harbour, I realised that this wasn't going to me a smooth ride. The water was choppy and the boat banged and hissed and splashed as if suddenly caught in the middle of a storm. I wasn't enjoying it, as the boat was filled to the brim with people and it threatened to capsize anyminute (at least in my head). I hoped we would see whales soon, so we can turn back towards the safety of the harbour.
Three hours later we were past the oil tankers that were barely visible below the horizon at the beginning of our journey, and soon enough we passed them too.
'We are no longer in Sri Lanka,' I complained. 'If I knew we had to travel all the way to Madagascar, I would have stayed by the pool.'I was extremely jealous of the young Russian guy behind us who had been sleeping sound since leaving Mirissa harbour, when suddenly there were whale sprays at the horizon. The boat's driver sped us through towards the spot. By then excitement had replaced fear and I no longer cared about the dangerous tilting and the banging of metal against waves.
First I saw a grey back followed by a prompt spray of water. Then it came back to the surface and danced a few more times, her back barely touching the water line until finally diving, showing a boat full of people her magnificent tail. My eyes filled with water. It was a moment that cannot be found anywhere else apart from miles away from shore and if that was what it took, then it was worth the choppy waters and fear of capsizing.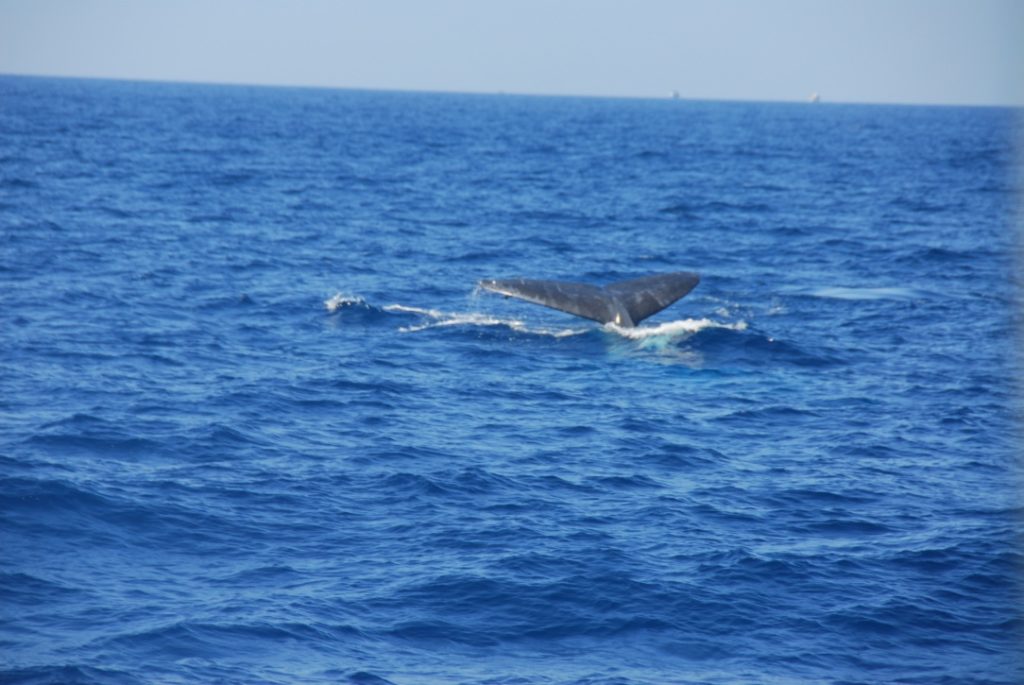 And yet it also filled me with sadness. These magnificent creatures are considered endangered and the few that are left are subject to daily hassle from noisy motorboats, for the satisfaction of tourists. I doubt that the money goes towards their protection. Sadly, there was more of that bitter-sweet feeling to be felt throughout the holiday.
Lazy days in Tangalle 
Being by the beach seems to have a hypnotic effect on the human body. I failed to react differently to the days that followed, in an eco-hut called The Palm Paradise Cabanas (situated on a piece of land saved from being turned into a large resort by a German couple in the early '80s) by Goyambokka beach, a secluded spot near Tangalle.
We decided to travel by bus from Kogalla to Matara and then change the bus towards Tangalle. What was supposed to be a 2 hours journey turned into a 6 hours pilgrimage due to (we were to find out later) magnificent religious celebrations blocking the main road. As a desperate measure, our driver took the entire bus full of men, women and children on a dirt road in an attempt to by pass the road block. It was hot and dusty, my bare legs stuck disgustingly to the plastic seat and a few children had occasional outbursts of crying, but mainly nobody on the bus (not even the many standing passengers) complained. I found that fascinating, comig from a place (London) where moaning about public transport is not only a daily habit, but also de rigeur.
Despite our long journey, we arrived in Tangalle pretty fresh-faced and took a tuk-tuk to the secluded Goyambokka beach. A superb stretch of beach marked by rocks on either side, sporting four small beach bars and only a few wooden loungers. We immediately felt at home.
'Can you believe we're spending Christmas here?'  I asked.
'It's better than my wildest dreams,' he confirmed.
Christmas dinner (which was included in the price of the room at the Palm Paradise Beach Cabanas) was a stunning affair of tables under the stars, fairy lights hanging from palm trees and a regalia of barbecued fish, grilled prawns and devilled octopus. Only the red wine tasted of vinegar, but I couldn't care less. I took bite after bite and sip after sip and wondered if things could get any better. I had no idea that Sri Lanka had a lot more aces hidden in her sleeves.