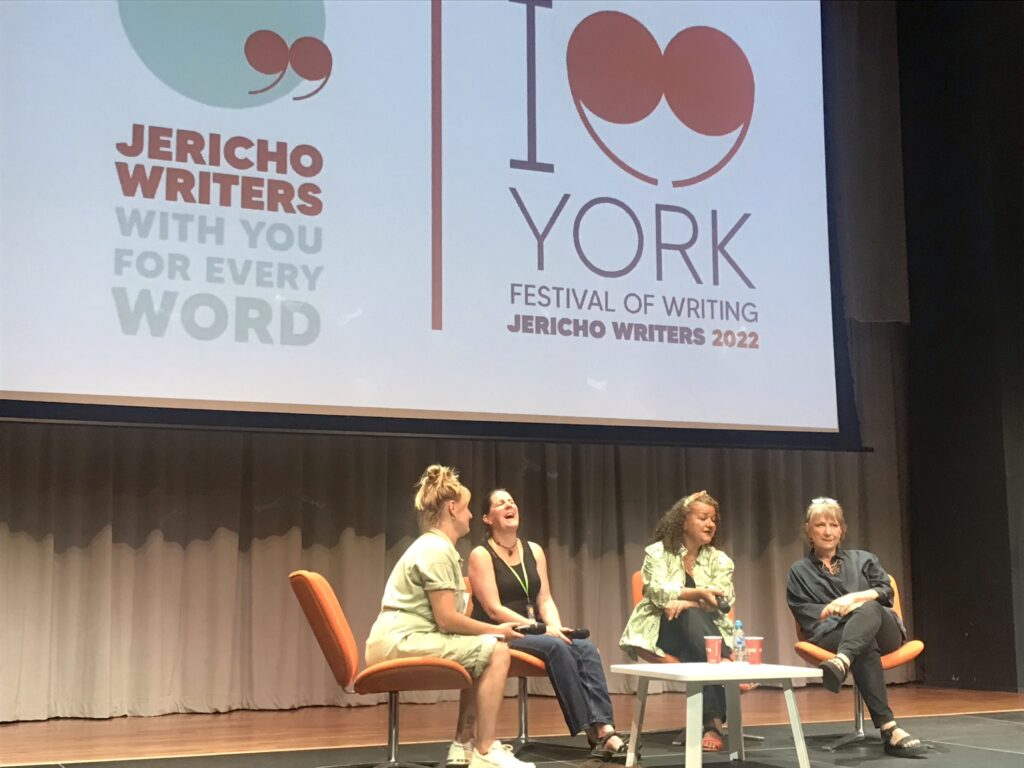 I have never attended a writing festival before. There was always an excuse. I didn't have money to spend on such an extravagance, I wasn't a proper writer (this one worked for many years until I actually got an agent in 2019), I didn't have time, between renovations, working and looking after holiday makers (this one still works, I'm afraid but who ever has any time, you have to make time!). Even the night before, after a small argument with my husband, I decided that I wasn't going to the festival just to spite him. I envisaged how miserable that would make me but, as I tossed and turned in my bed, I figured it was worth the sacrifice. Fortunately, in the morning, he told me I was being silly and drove me to the airport.
Once all my fears and excuses dealt with, I got on my way to Yorkshire (another first!).
What followed I can only describe as a whirlwind of energy I barely had time to stop and think about.
I knew that attending the Jericho Writers York Festival of Writing 2022 was a huge milestone for me. I just didn't realise it was going to deliver so much more than I expected.
Here are the most important things I am taking away from the experience:
1. Networking
I simply hadn't realised how starved I was for connection with like-minded people, especially since living in France. We all know that writing is a solitary activity and that talking about writing to our family and friends can sometimes seem pretentious and contrived. Constantly talking to my fellow attendees about our writing projects until my jaws hurt and not feeling guilty about it, has given me so much energy, I feel I can ride on for the rest of the year.
2. Feedback
As part of our festival ticket, we were also given two 1-2-1 sessions with agents and editors of our choice. I already knew from the lovely rejections I had been accumulating since last year that my second book needed some revising, I just didn't know where to go next. I picked one editor (Holly Dawson) and one agent (Ciara Finan from Curtis Brown). They both gave me fantastic points on how to progress with my book and, more so, reassured me that I was very close. Now, that's an outcome I did not expect. Unlike like many of my fellow writers, I wasn't there to pitch. I knew my book needed work. I just hoped it wouldn't be too much!
3. Friendships
Like in any social circumstance, people are naturally drawn to each other and I'm delighted to say that I've also made a few friendships. Which is ridiculous when you think about how many people were in attendance (a few hundred) and we only had 2 days to talk about our books, dogs, cats and favourite colours.
4. Knowledge
Who doesn't like a classroom? At least I do! I was so excited that I was back at Uni (well, sort of!) being taught my favourite subject: the craft of writing. And the classes were jam packed with juicy information. More so, some of us even got to drain the wonderful Jo Unwin out of every single ounce of information she had in her. Jo, forgive us! We were greedy. You were amazing!
5. Party
We've been told to bring our party shoes but I honestly did not expect to have just as much fun as I did. There was dancing, excellent food and service, some very good outfits and an empty bar by the end of it. Let's just say I will have to mend my shoes…
The morale of the story is that it's never too late to start (whatever it is you have never done before!). And by God, don't listen to all those fears in your head. As the marvelous writer Elizabeth Gilbert famously said, fear is not the one driving your car. You are!