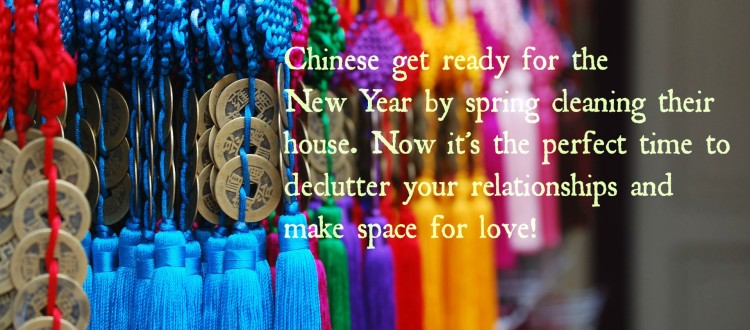 I am so excited! Tomorrow marks the arrival of the Chinese New Year and it's going to be the Year of the Goat, my sign! I know Chinese say the year of your own sign is not a lucky year, I beg to differ! It's going to be an amazing year because we goats always get things done (one way or another!).
But what I love about the Chinese New Year is that, before the New Year comes, it is customary for the Chinese to clean the house from top to bottom in order to get rid off all the bad luck gathered in the previous year. But it's not just that. Cleaning the house also means settling all their unfinished business to start fresh for the new year: paying off debts, resolving all quarrels with friends, decluttering affairs etc.
I remember that around the same time of the year, during The Love Project, I experienced a period of relationships declutter. I felt a sudden urge to finish off all the relationships that didn't lead anywhere, to finish of all the 'in between romances' most commonly referred to as 'friendships with benefits' and to truly prepare myself for what I really wanted.
It was incredibly therapeutic to do so, but what I didn't realise was how many unproductive relationships I actually had gravitating around me like residue from a meteor shower. It took a lot of cleaning and it took a lot of questions such as 'Is this relationship of any benefit to me?' to really get rid of those situations that were not good for me. Because they were so ingrained into my life, that they felt normal.
In the end I deleted a lot of phone numbers (yes, even that of the occasional Tom whom I hadn't spoken to in donkeys years and whom I believed might be a useful contact for when I would be looking for a mortgage!), told a lot of people I wanted more and moved on with an empty 'emotional shelf'.
So, what are you going to clean up before the Chinese New Year?
But be careful that, after the New Year comes, you cannot sweep during the first days otherwise all the new luck will sweep away!
Go make space for love!