25 Dec – Hoi An
It's Christmas in Hoi An
It's Christmas in Hoi An and 'Feliz Navidad' blasts from a nearby restaurant. A couple metres further, George Michael's 'Last Christmas' fills me with nostalgia and hardly a hundred metres later 'I'm Dreaming of a White Christmas' can be heard. It's undeniable. The Vietnamese love Christmas!
Which is funny as the majority of tourists filling the narrow and quaint streets of Hoi An are probably running away from Christmas. And yet here it has a different flavour. There's none of the bitterness that Christmas haters experience in their respective countries as soon as the first Christmas advert gets played on TV and certainly none of the exaggerated fluffiness that Christmas lovers roll in from October to 1st of January! Here, Christmas is simply Vietnamese. Children dressed in cheap velvet Santa Suits are selling lanterns by the river, shops cater abundantly for those who, in the absence of a cheesy Crimbo jumper, would like to mark the occasion with a Santa hat, the shops and restaurants play music on repeat from the same (probably pirated) CD compilation and Christmas decorations fill every window, door, toilet and literally any available space.
The only res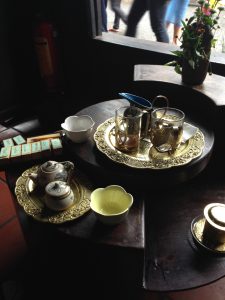 pite from the Christmassy auditory abuse is Reaching Out tea house. We love this place. It's one of the best social enterprises we've seen in Vietnam yet: a tea house where every employee is speech and hear impaired and, therefore, it is an oasis of quietness. The owner himself is speech and hear impaired and apart from the tea house, he also has a shop which sells handmade tea related paraphernalia as well as everything else from blankets to lampshades, all crafted in the atelier behind the shop by people with various disabilities. Reaching Out is reaching out to me and I answer the call every day while I'm Hoi An. We buy handmade tea trays and try every blend of tea and coffee available in the tea house. Every blend comes in a different tea set and literally every time we're at reaching out, we're enjoying a completely different experience.
We spend Christmas morning at Ms. Vy's – Vietnam's own version of Jamie Oliver – cooking course, at her newly opened Market restaurant, and we leave in the afternoon with the knowledge of making edible cabbage and prawn soup, Vietnamese pancake, and chicken skewers with green mango salad, as well as with two massive mango peelers that look like Klingonian machetes wrapped inside the recipes of what we've just cooked. Not quite the roast turkey from home, but as Christmassy at it gets!
In the evening, we meet Richard and Kay (which we befriended on the boat in Halong Bay) and Andrew and Georgie (our 'roommates' from the night train to Sapa). We're all spending Christmas in Hoi An and we're excited to spend it together. It's as close to a family Christmas as it gets here, sharing tasty dishes at the Morning Glory restaurant, clinking glasses and laughing like we never laughed before. I look at everyone's animated faces and I realise that I am so extremely happy!
Earlier we launched some lanterns on the river, to celebrate being alive. For that, we negociated with two 7-year brothers dressed in Santa Suits and got horribly ripped off.
'Happy Buddha!' one of them said rubbing His belly.
'What did he say?' He asked me.
'You're suppose to touch Buddha's belly for good luck!' I said. 'He's doing that to you!'
'Haha, he knows he's in luck of money today!' He said and paid the two Santas a small fortune.
Happy Buddha, I think, rubbing my full belly and taking another sip of my beer.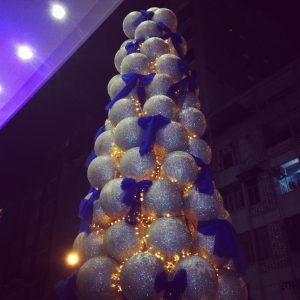 31 Dec – Phu Quoc Island
The most important night of the year
We're both glad to be out of Saigon.
I don't know what I expected to find there. Two year ago was two years ago, now everything's changed. The plastic chairs on both sides of Bui Vien Street have grown incrementally from a few dozens, to almost the entire stretch of the street. The guy dancing Gangam Style and the guy with the snake were no longer there, having been replaced with 12-year old flame eating boys and a continuous procession of dry squid on the back of bicycles. Every few minutes somebody asks if you want drugs and red-lipped Vietnamese girls in short skirts drink cocktails with fluttering eyelashes, in attendance of clients. The street is full of men of all ages and there's a palpable seediness I hadn't seen (or had been oblivious to) before. This isn't innocent Hanoi. This is Vietnam's version of Bangkok!
The flame eating kid is coming around to collect money. Don't know why but it makes me very sad to see the adult look on his face, the sharp, street wise manner of his movements and to think of the cheap petrol eating away at his throat every night of the week. I give him money and try not to think that his life expectancy doesn't look too good. There's something desolate about Saigon this time and I'm glad we're out of there.
We're literally on Long Beach in Phu Quoc. Our bungalow is built at the edge of the sand and with a little effort I could jump into the sea straight from our front porch. To the left, workers are busy decorating to the New Year's Eve celebrations this evening. I spent so little time worrying about the most important night of the year, on this holiday. Maybe because every night here has been the most important night of the year to date and the fun is far from over!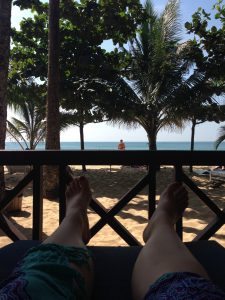 As the night falls and the restaurant is fully set on the beach next to us, I notice the pristine white table clothes they have lined on top of wooden tables and the myriad of fairy lights that make it look like straight out of a fairy tale. We take a sit and rejoice and burying our feet deep into the sand below. The only sensation that tops that are the grilled clams, king prawns and the sweetest and most delicious squid I have ever tasted. The night is magical. What can possibly go wrong?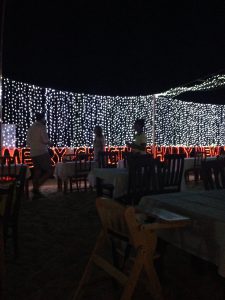 A girl sits at the table next to us and we notice she's alone. We ask her to join us. She shyly accepts. Suddenly, a girl from the other end of the restaurant runs over, puts her plate on the table opposite our new friend and before anyone has a chance to say anything she asks:
'Can I join you? I am also alone!'
We all start laughing.
'Let's have wine!' I plead, having had enough of beers for three weeks.
He goes to the bar and comes back with a chilled bottle of Da Lat wine that looked deliciously inviting.
'How bad can it be?' He says. 'An Aussie guy told me at the shop earlier that it's "not bad". That's a good enough recommendation for me coming from an Aussie!'
I take the glass to my lips and the wine is worthy of a bad review on TripAdvisor (if a section about local wines existed!). The 'wine' I'm drinking is like fresh vinegar, not quite sweet and not quite sour either. But it's New Year's Eve and at least it has alcohol!
Around 8pm the hotel attempts to force an entertainment programme on us and karaoke time is declared. A Russian man enthusiastically performs some 80's Modern Talking songs and a lady in red sadly does not opt for Chris De Burgh's 'Lady in red' but goes for Abba's 'Happy New Year' instead. Despite the promising start of the evening, this is worse that children eating flames.
'Hey, shall we go somewhere else?' suggests Giulia, the newcomer.
'Let's see if we can find somewhere we can have a quiet drink!' we all agree.
We walk on the beach, warm water caressing our bare feet and we pass dozens of similar restaurants with equally awful programme. But we don't care, we are happy. A band sings 'I Love You Baby' at one of the posh hotels and we all burst into song like cats during mating season.
'I loooove you, baaabbyyyyy, aaaaan if it's quite aaaaalright, I neeed you baaaaby!'
Somehow we manage to miss midnight but, by Jove, this has been one of the best New Year Eves I've ever had!